How I became a Nike designer…
A must read for any runner or hard working, creative, big dreaming, goal driven, and passionate artist.
---
I am a runner. I started running at the age of 9 and have been running ever since. I love running so much that just talking about it makes me smile. Not only am I a runner, I've turned my passion for running into a business. A business that has been my sole source of income for the last seven years and, as a single mother, has supported both my son and I.
In the last 7 years, I have operated the company in every aspect and all business processes including creating unique, original jewelry and apparel designs that reflect my electric enthusiasm for the sport I love, running.
Over the years I have had the opportunity of showing our products to some of the most exciting running audiences in the entire world. These audiences include the symbolic, prestigious, marathon of all marathons, The Boston Marathon, the happiest race on earth, The Walt Disney World Marathon, and, in 2015, we were even selected to design the official jewelry of the internationally renowned San Francisco Marathon, just to name a few.
I also sell both our jewelry and apparel products at wholesale to a number of running stores and online retailers around the country. In 2014, we were invited and attended a retail show where the top running brands in the world showcased their products to specialty running stores from all across the world.
To add to our portfolio, our products have also been advertised in Runner's World Magazine, by far the number one runner's magazine on the planet. And our jewelry and apparel has also been featured on Active.com, which hosts the world's largest directory of sports and recreational activities, facilities, venues and classes, which includes more than 290,000 races, leagues, tournaments, camps and other recreational listings in more than 80 sports and 5,000 cities. Pretty much anyone who runs marathons or half marathons has had the opportunity to see our products in one way or another.
The Endure brand can be recognized in cities all over the country. Over the summer I traveled to Chicago where I had mentioned what I do to a fellow runner I had just met. After showing her my designs, her face lit up and she said, "Oh I've seen that shirt. A lady I just saw was wearing it running down the street!" Now if you can put a measuring stick to business success, whether it's a number or a fact...hearing this woman say this, who I had just met, was priceless.
Now let's rewind to this past spring where my hopes and dreams of becoming a designer for Nike begin to fall into place…
(and please be prepared for A LOT of Disney references as I am a CRAZY runDisney fanatic!)
The story begins this past April, I was selling my product at a running expo as usual. It was just another day in Monterey when a woman comes up to my booth and says, ""I need this shirt. My daughter has one exactly like it. I am so excited we are going to match." I was so happy to hear that her daughter had the kid version of our shirt. I had never met this woman before and it was exhilarating to see her eyes light up when she went to grab the shirt I had designed. It made me so proud.
My 3-year-old at the time was one of the "models" featured on our website and that possibly meant his cuteness could take credit for the sale. This made me happy.
On our website we have a picture of him, his cousins, and his best little girl friend wearing neon yellow and neon pink versions of this shirt. So I proceeded to ask her, "Which one does she have? The pink or the yellow?". She looked at me confused and said, "Its black…" continuing with a confused smile, "It's exactly like this though except it's Nike. I'm so excited to match her!" I processed her payment and let her on her way. I was so confused...did Nike really have a shirt like this?
After she skipped off with her new tank, I immediately googled "Nike Run Smile" and this is what I found.
I was shocked.
Now as a designer, I understand the whole "gray area" of design and copyright and if the design is changed "enough" then another artist can publish something similar, just as long as it doesn't create brand confusion. But when someone comes up to purchase a shirt and says, "...My daughter has one exactly like it.", it pretty much confirms to me that brand confusion just took place right before my eyes. It wasn't just a friend who noticed the similarity. So let's examine them side-by-side:
I created my signature design in 2014. After realizing the success of the design, I obtained a copyright in 2015 that is now registered with the Federal Copyright office. My run smiley design has taken on many fun and festive variations including a Halloween, Christmas, Valentine's Day, and Easter versions, with many more still waiting to be released. This shirt has become a signature look that is synonymous with Endure branding.
Looking at the two designs side-by-side I know there are some subtle differences. Nike tilted the face more upright, they also used capital letters instead of lowercase letters. But the hand-sketched style, and the fact that the left eye is an "R", the nose is a "U", and the right eye is an "N" make it so similar that when I posted this on social media, people just thought I was releasing the "t-shirt version" of our tank!
Now really...does making the R and N uppercase make it all okay? Does taking the concept and changing it just a little bit make it okay to completely take credit for a design? It shouldn't. It's just not fair. If this were a bigger company, Nike couldn't and wouldn't expect to get away with something like this. Nor would another company expect to get away with "slightly" changing a piece of art that Nike actually designed for their own brand.
Okay Nike, I'll give you this, you weren't the first to be "inspired" by our designs. We have successfully notified other companies of the copyright and they have politely removed their versions of the design from their stores.
One other company has been not so nice...but that's a completely different story in itself. Check out our social media stalkers Gone for a Run below…
Our original designs are shown on the left…Gone for a Run's "inspirations" on the right.
...I think they might be crushing a little to hard on our jewelry
And now our apparel too…..they posted their pink version within hours of our #FindingSunny game at Walt Disney World in February.
Come on seriously?
That's pretty much like Jafar trying to get Jasmine to fall in love with him.
I think I just threw up in my mouth a little bit.
Shame on you!
Back to the Nike story...
So the question I would get after showing these eerily similar shirts to people, the first question was always, "So are you going to sue them?".
Long story short, we sent them a cease and desist (which, by the way, cost me well over 100 shirts of profit margins), and they basically flipped us the bird via legal document. The jist of it said, "We didn't copy, we designed it on our own, we didn't know about your design, it's not substantially similar anyway…" and that they considered the matter closed. I call Pinocchio on this one…
So basically Nike gets e-mails with accusations of copyright infringement and they respond with this letter pretty much saying, go away, it's not worth our time, STFU. And apparently this seems to work because who is going to be able to afford suing a monster like Nike? ...and with the legal teams they must have on their end, they know a single mommy really can't do much without risking it all, just to end up possibly losing in the courtroom. So not fair.
Hey Nike, just a little FYI: flexing your wallets might make me back down from trying to sue you...but listen, bullying is not nice.
Up until this moment, I loved Nike. I had Nike everything. I wore Nike Pegasus to run in even though they weren't the number one fit at my local Fleet Feet, I just loved the brand and I loved how they looked. They were a classic choice, a brand that grew out of a garage that began with a passion for running, just like my company did.
I dressed my models in Nikes for photo shoots. I incorporated Nike products in my outfit posts and hashtagged and commented using their company handles accordingly. I ran the Nike Women's Marathon as a bucket list race. I ran in Nike sports bras and traveled to the Nike outlet in Tulare pretty often just to update my wardrobe. I used a Nike watch, the Nike running app...the list goes on. I even dressed my little one in Nike. But this girl was Nike'd out.
I went through every emotion possible. I went from flattered at first, that Nike would like my design so much to produce one that they called their own, to heartbroken, to angry....
This is where the angry Sunny came out. Kind of like when Queen Elsa told Anna to leave and she unleashed the crazy giant snow monster, Marshmallow, after her.
Go away..
I started a #PaintingMyNikesRed campaign in hopes to get Nike's attention. Perhaps they didn't have time to deal with my case and maybe, just maybe this would shine a light on the situation.
I got a lot of support and got some new people aware of what was going on. So much that over the last few weeks I had a number of people approach me, strangers even, just to buy the shirt they saw from the story they heard about on Facebook.
Over the last few months, I found myself sharing this story over and over again with friends, family members, and complete strangers.
It made me sick.
Commenting on posts and encouraging people to destroy their expensive Nike products to support me, at first felt empowering. Some of them used paint, some used red tape, some just bought my shirts and posted the shirt with the hashtag #PaintingMyNikesRed to help raise awareness. But with every encounter, every post, every mention of Nike, came heaviness, anger, and frustration. Think Inside Out...and Joy sitting with her arms crossed in the corner waiting for her turn to shine.
This just wasn't me. I started getting sad about a happy face. Once I realized this, I knew that something needed to change. And it had to start with me.
After the initial buzz around the topic of "anti-Nike" and bloody red Nike shoes, I took some time off of the subject to let things settle.
My news feed became filled with violence from crazy things happening all over the world. Putting me in my place, helping realize that this isn't really a tragedy, just a really sad, really disappointing story.
Soon after, my news feed became filled with Olympics. It was inspiring, beautiful things happened. Records were set. I got the opportunity to watch one of the girls from my hometown perform in front of the whole world. Another one of the girls I used to watch since high school was breaking Olympic records.
The entire time, I was flashed with Nike swoosh symbols; they were everywhere. As much as I tried to ignore it, I couldn't help but feel like I was being punched in the chest each time I flashed across my screen.
I wondered. How could this happen? How often does this happen?
Pretty soon, my news feed became filled with presidential candidates and campaigns. I wondered...could anything really be done about this?
So I think I'll ask some questions to those who might be able to give me the answer...
@RealDonaldTrump How do we keep giants like @Nike from taking advantage of small businesses? http://bit.ly/2cmDNZc
and…
@HillaryClinton Can a small, female-owned business stand a chance facing a giant like @Nike? http://bit.ly/2cmDNZc
Let's cross our fingers and "retweet" and see if we can get an answer…
As for me...I am going to continue smiling when I run and will continue wearing my run smiley shirts proudly. I refuse to be sad about a happy face any longer.
I'd rather let Nike have that knock-off version of our shirt than spend any more of my time and energy being upset about this. I don't care anymore.
Sunny badger don't care!
Yes Nike...go ahead, keep that one.
Just do it.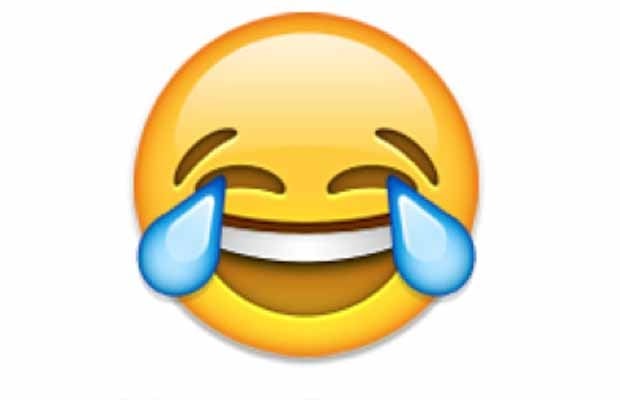 You can take something that's not yours, but for me, for my well-being, for my happiness, for my creativity to thrive and keep on thriving. I am left with no choice but to let it go…
Thank you @Nike for the flattering gesture. I can now say that I've landed my dream job as a Nike designer…
Oh and P.S. @GoneforaRun...stop following us all over social media...it's just creepy.